In a complex and fast changing rail industry, collaborative working is key to unlocking value
We have set out to develop our collaborative capability by certifying to ISO 44001:2017, the international standard on collaborative business relationships.
The right leadership, combined with the development of our people and processes, means we have a credible foundation on which to deliver joint collaborative objectives.
We have contracts in place with over 100 supply chain companies across the UK
Our objectives include:
Maximising performance, delivering aligned goals and creating increased value
Developing in-depth relationships to stimulate innovation and continuous improvement
Sharing knowledge, skills and resources in an environment of trust
Our long standing expertise in engineering and asset management has been recognised with 43 Golden Spanner awards to date for the performance of our fleets.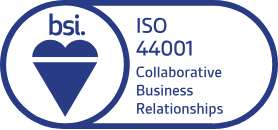 None of these awards would have been possible without the contribution of our partners in the train operating companies (TOCs) and supply chain.
What benefits does it bring?
Collaborative working is a different business model.

Through collaboration we focus on achieving joint objectives and creating more value by working closer together. We develop a climate of trust so that knowledge and capabilities can be shared confidently for better outcomes.

Collaboration targets competitiveness and performance improvements across areas such as cost effectiveness and timescales. It increases engagement between organisations to develop long-term, sustainable relationships. Collaboration also drives higher levels of innovation, better risk management and more efficient use of resources.

It enables Porterbrook to deliver a confident response to the increasing requirements of the rail industry, with better customer experience, innovation, maintenance and reliability – adopting a single team approach and a positive relationship with stakeholders.